Dead Possum Removal Melbourne – Book Experts For Doing It Hygienically
The malodorous and ghastly sight of a carcass can make you nauseated. Whether the carcass is out of your sight or in front, both ways it's troublesome. Solely removing dead possum(s) is not the only job but also disinfection and future prevention is important. For the complete process of dead possum removal in Melbourne call David's Dead Animal Removal team. For any property like schools, hospitals, hotels, houses, restaurants or offices, or more, just remember one name for dead possum removal – David's Dead Animal Removal Melbourne!
You might face a dead possum due to several reasons and the condition can be anything. From a half-decomposed body to a full body infected with insects and pests, sometimes heavy, inviting lots of other pests and bacteria over it. Considering all aspects, especially your health and hygiene, we remove dead possums safely. You can get in touch with our experienced personnel in no time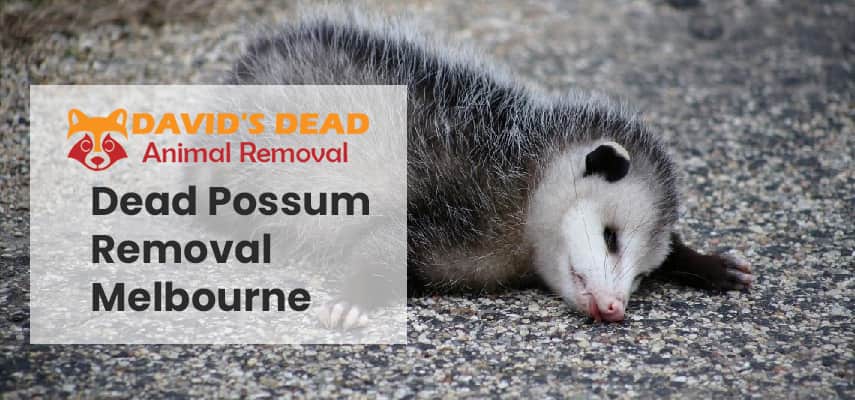 Our Process For Trouble-Free And Quick Removal Of The Possum Carcass
Discarding carcasses safely without making the surroundings contaminated and cleaning to sanitize the area is significant. David's Dead Animal Removal professional team is dedicated to taking quick actions regarding carcass removal in two ways broadly –
If the dead animal is well spotted by the possessor then picking it up cautiously and burying it in a proper place is our pro workers' responsibility. Also sanitizing and deodorizing the spotted environment counts in our package.
The second comes when you doubt the dead by smell without actually seeing. Our experienced person will inspect the full property searching for the dead. Surveying full property for unseen is essential as you are not aware of the number of dead animals. Then if necessary will suggest to you the apt preventions which can cease future mishaps with an animal.
Other Dead Animal Removal Services We Offer in Melbourne
Cat Removal
Bird Removal
Pet Removal
Rat Removal
Dead Mice Removal
Dog Removal
Animal Removal
Rodent Removal
We Carry Our Dead Possum Removal Price With Pride
Price varies from customer to customer, varies on the number of dead possums, varies for hidden or visible carcasses, the time required to sanitize the space and other locational challenges. We @ David's Dead Possum Removal Melbourne are known for our best price offers. You will get your final bid after a thorough free inspection of the area by our professionals. You will certainly be happy with our work and price correlation. On a normal basis, our services start from $150 and go to $350 depending on the situational complexity.
Why Choose David's Dead Possum Removal?
Want to choose a highly dedicated dead animal removal team in Melbourne? You can choose
David's Dead Possum Removal Melbourne for the following reasons:
Your health, safety, and satisfaction are our priority.
Our team is available day and night around the year at your one call.
We have a huge satisfied clientele based on our service and responsibility. Be part of the one!!
We understand the science of hygiene and undertake the process of removing dead possums by maintaining hygiene all the time.
We are quick in taking the action all the time. our company is licensed, experienced, and know our skills extensively.
We ensure only professional and licensed employees, who are safe to enter your private space, assist you with the unwanted situation of removal of a dead possum.
Call David's Dead Animal Removal Melbourne
Remove your eyesore at once with David's Dead Possum Removal Melbourne. You can reach us on our all-time functional toll-free number. We at David's Dead Animal Removal Melbourne understand the crisis and are promptly available at reasonable prices for our pro services. Contact us today.